Below are some photos of some of the recent pieces that we've done for customers. Some are the actual family heirloom pieces and some are replacements for the actual radio that was in the family back in the day.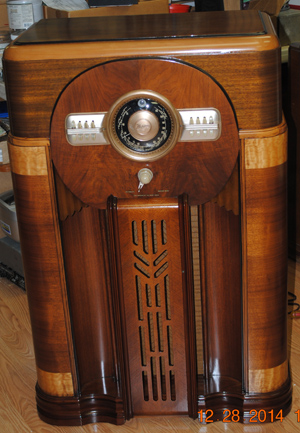 My customer in TX wanted this radio done. Seems that his family had one when he was a child. This radio came from NY and was delivered here for me to restore. They call this an "Aztec" because the front reminds you of an indian headdress.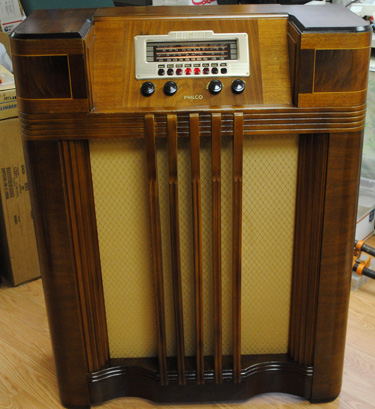 This radio spent most of its life in Flint MI. The customer had this restored for his daughter who had the family carry it around for several decades because "it was my grandpa's radio and YOU"RE NOT THROWING IT AWAY!" She had forgotten about it when it arrived at her new home in MD. She KNEW it was the same radio though. The cigarette burns in the top, where gramps had laid the smoldering butts, were intentionally left there, on request of the customer. I wish I could have been there to see her face!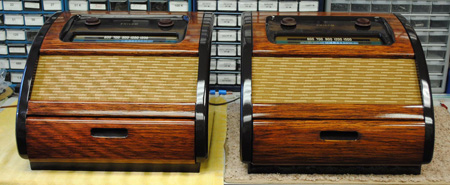 This customer in TX wanted two of these done exactly the same. The original radio had been a 1st anniversary present to his wife. He'd spent the last nickel on her for entertainment reasons. They'd play their 78 RPM records on the phono (inside the radio where the front door can be seen) or listen to the radio. He wanted one for each of his kids and they wanted them as well. They are call a "Bing Crosby" radio because the old crooner advertised them for Philco and they sold like hotcakes. Philco made this model in several iterations for about 5 years